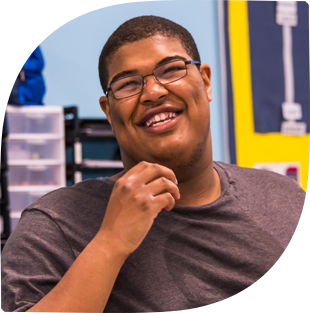 Meeting Students At Their Skill Level
Autism presents differently in every child, which is why we believe that there's no "one-size-fits-all" approach to education. We offer two distinct approaches, individualized to meet each student's needs and prepare them for life beyond the classroom.
Functional Communication

Support Model
​
• Students with significant autism & developmental delays
• Students with no developed form of communication
• Individualized academic and behavioral support program
• Improving fine motor, social, and life skills
Functional Communication 

Support
​

Model
Broad-Based Educational Services and Therapies (BEST) Model
Motor Lab
During Motor Lab, students increase fine and gross motor abilities and understanding of their environment by moving through a sequence of progressive skills. Students may also have the opportunity to interact with peers during this time.
Broad-Based Educational Services and Therapies (BEST) Model
Discrete Trial Teaching (DTT)
DTT is an Applied Behavior Analysis (ABA) strategy that is structured and fast-paced. Through 1:1 instruction, staff work to break down a student's specific language skill into smaller "trials." By breaking down these skills, we attempt to build up a brand-new skill. This is accomplished through repetition and a high frequency of reinforcement.
Broad-Based Educational Services and Therapies (BEST) Model
Natural Environment Teaching (NET)
Students take part in language-based social, play, and leisure activities that provide real-life simulations to generalize skills gained during Motor Lab and DTT.
Broad-Based Educational Services and Therapies (BEST) Model
Real-Life Encounters
Students are able to utilize the skills gained across all rotations with a larger group – at lunch or recess or in new environments – through community-based outings. This allows students to achieve two long-term goals: (1) the ability to participate, function, and demonstrate independence in the general public, and/or (2) the ability to transition to an academic setting
Behavioral Management & Support
Each student enrolled in the Functional Communication Support​ Model has behavior programming individualized to his or her needs, identified during a Functional Behavioral Assessment (FBA). First, we identify the behaviors that disrupt a student's ability to access the environment and learning. We then use the data collected from the FBA and the classroom to devise strategies that get to the root cause of the student's disrupted behaviors, always providing them with the tools to develop positive replacement behaviors.
Our Behavior Management System is reinforced through the use of 6 effective teaching strategies.
Intensive Behavioral Needs
​

Model
By focusing on key areas — academics, behavior modifications, support services, and transition / life planning services — we are able to meet the individual needs of all students through these varied approaches to instruction. Through collaboration with a student's IEP team, we are able to choose the most appropriate learning model based on a given student's present levels of performance, social capabilities, motor coordination, and ability to learn in a group setting.
Rotating Through Learning Areas Throughout the Day
Click on each rotation to learn more.
Technology-Based Workstations
Supplemental curriculum software programs are prescriptively assigned for additional skill development.
Teacher-Directed Instruction
Special education teachers deliver specialized instruction utilizing High Leverage Practices (HLPs) for intensive, explicit intervention. Instruction takes place in small groups based on student's individual skill levels, pace, and learning styles.
Assistant Teacher Instruction
Students work in small groups with the assistant teacher on specific skill remediation designed to reinforce and support teacher instruction.
Independent Seatwork
Students are able to develop a personal sense of accountability through independent seatwork. Student workbooks and other reinforcement materials are selected according to skill needs at an independent level.
Central to our overall approach is building a student's confidence and competence through personalized academic, interactions, customized curriculums, state-of-the-art intervention tools, and a signature education model. Our certified and skilled instructors provide each student with personalized instruction in a safe and supportive environment.
Each student's learning and language needs are accurately identified using our multi-tiered hierarchy to determine a students' academic level:
Tier 1 – Students on Grade Level or 1 or More Years Below Grade Level

Tier 2 – Students 2 or More Years Below Grade Level

Tier 3 – Students 3 or More Years Below Grade Level
Developing a Student's Plan
Teacher's analyze a student's individual assessment data to target the specific skill areas in need of direct and systematic intervention. Based on the student's assessment, individualized materials, methods, and programs are selected to match the students specific Reading, English, Language Arts, and Math needs
Through Data-Based Individualizations, we focus on research-based practices by linking our intervention methods to a student's assessment data. By customizing towards each student's needs, we are able to plan accordingly while also adjusting our implementation methods depending on the individual student.
Our program fulfills all IEP, LRE, and IDEA requirements through customized behavior intervention plans, the tracking of behavioral trends, and a host of therapeutic approaches and motivational strategies. Our Behavior Management System provides routines, norms, boundaries, and clear expectations that our students crave and require in order to concentrate and remain on task throughout the day. To achieve success through our Behavior Management system, we focus on these key components:
Safety First: Providing a safe learning environment for all students. Parents, districts, and students are reassured that our environments are secure, nurturing, and supportive.

Positive Reinforcement Techniques: In order to reach their personal behavioral goals, our staff and teachers providing continuous and ongoing positive behavior support for all students.

Mutual Respect: By showing students the importance of respecting themselves and others, they learn to honor the differences among them while also gaining an appreciation for rules as well as authority figures.

Strong Therapeutic Approach: In order to teach self-regulatory techniques, establish emotional balance, and create a sense of inner well-being, our staff and teachers deliver compassionate mindfulness techniques, guidance, and counseling for all students.

Data-Driven Interventions: When a student is having difficulties beyond the support of the school-wide behavior management system, the staff will utilize data to inform future intervention strategies.