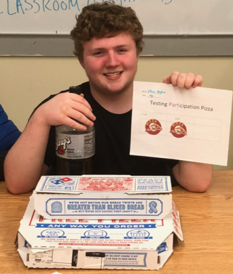 Ethan has had a terrific first half of his ninth-grade year here at CSD. The team decided he earned the spotlight this month. Between navigating his way around the building to taking on the workload of being in high school, no challenge has seemed to put a stop to his drive. I asked Ethan "what he was proud of most after his first two semesters of high school?" He simply stated "everything". Ethan has been on time everyday most of the second semester and has risen to the ranks of being on the blue level in the classroom. Completing all of his assignments even if he really is not feeling it that day, he always says "he would rather work then put his head down because he will be even more bored". Ethan passed all of his classes for his first half of the year and starts his second load of classes at the end of January. The team here at CSD is very excited to see what this second half of the year holds for this young man.
"Witnessing Ethan grow and adapt to his new surroundings has been a pleasure so far this year" -Mr. James (High Road Teacher)
Mr. James spoke with Ethan's mom last week just to tell how proud he and the rest of the team were at how far Ethan has come so far. And that he thought Ethan would love playing lacrosse (Mr. James is also the lacrosse coach). The call brought her to tears and made her day to hear those kind words of how hard Ethan has been working. Naturally nervous like any parent when their child goes from middle to high school, she feels confident that this is just the start to an amazing high school career for Ethan. We could not agree more. Great job Ethan!